Invaders Ukulele Concert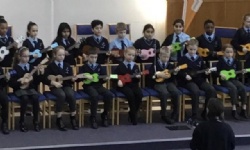 Invaders Class had a wonderful time at the Peterborough Music Hub concert this week.
Several schools across Peterborough joined together to play the instruments they have been taught to play this term. Invaders class played their Ukuleles. Mrs Alexander and Mrs Barnes were very proud of the children. Everyone commented on how well they performed.