Coronation Crown Winners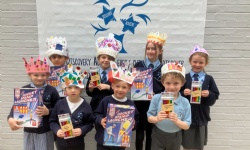 The chosen winners from one of our local homes for older residents.
All the children at Discovery Primary Academy created a crown for all the residents at one of our local care homes. The crowns were worn by the residents on the day they celebrated the King's Coronation. The residents then choose three 1st place winners and three second place winners. The children were presented with their prizes on Friday. They were delighted to receive them.