Foundation Stage Trip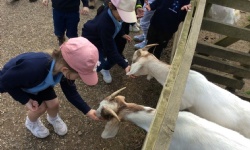 Foundation Stage visited West Lodge Farm last week. They had a lovely time.
On Tuesday 16th May, Foundation Stage visited West Lodge Farm as part of their farm topic. During the day we were able to feed the goats and sheep as well as bottles of milk to the baby lambs. There were lots of animals we could pet and stroke, and we made sure we were gentle when stroking the rabbits, guinea pigs and chicks. On the tractor and trailer ride the Farmer told us about all the crops that were grown on the farm and showed us the cows grazing in the field. Before we came home we watched a sheep race. The children all enjoyed cheering on their favourite as they raced round the field. We had such a lovely day and had lots of tired and happy children on the bus ride home.