Peterborough primary school grateful to charitable trust for donations to outdoor music area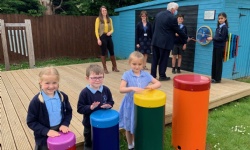 A Peterborough primary school are grateful to a charitable trust for gifting them a range of items for their outdoor music area.
The Edward Charles and Kathleen Bailey Trust gifted a series of items, including large colourful drums, to Discovery Primary Academy in Walton.
The school's outdoor music area now consists of a colourful selection of instruments including drums and sound tubes which the children have been thoroughly enjoying and exploring throughout the day.
The school says that the area has many benefits, including promoting language and communication development, improving working memory and inspiring creativity.